CHECK OUT THE FULL COLLECTION FROM HERBAL ALCHEMY & SHOP WITH US
 

HERE.
Premium Plant Powered Nootropic
Where Stepping Into Your Power Becomes Effortless
From the Founder of Herbal Alchemy:
"I can't tell you how often I've felt like I am losing my mind. Be it mom brain, brain fog, forgetfulness, or lack of focus and presence. Too often, no matter how well I eat or how much I muster, brain power eludes me. In addition to gut, joint, and skin health, I wanted to build our foundation of supplements with a plant powered nootropic whose sole purpose is to support your brain's ability to do exactly what it was created to do: FUNCTION. So we did. I am proud to deliver our proven, revolutionary nootropic backed by science and nature, for men and women who desire a fine-tuned mental machine. Imagine being able to finish all your sentences with flying colors.
At our core, we believe that our body is designed to heal itself and the brain is no exception. Prepare yourself for maximum memory, focus, libido, fertility, energy support, and so much more. Bring back your beautiful brain and prepare yourself to live a limitless life so you can take the world by storm." 
How to Use
As a special dietary supplement take one to three capsules daily. May take three times daily with a large glass of water.
One package = 30-day supply 
Ingredients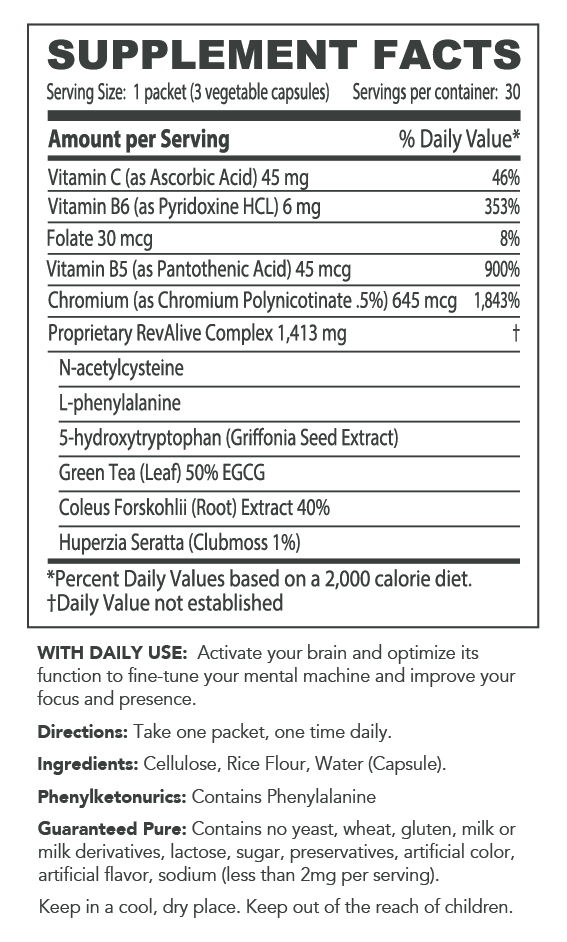 *This statement has not been evaluated by the Food and Drug Administration. This product is not intended to diagnose, treat, cure, or prevent any disease.